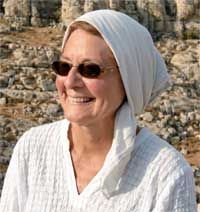 Elizabeth Rabia Roberts, Ed.D, is an internationally known citizen activist and women's advocate. She is MaShieka—spiritual guide and teacher—in the International Sufi Way, and a lifelong student and teacher in nondual Buddhism. She has spent nearly 50 years working as a change agent for social and environmental justice issues. Seventeen countries in the past 25 years have been her home. She has slept in tents, bamboo huts, ashrams, church basements, hotels, the occasional palace, and the guest rooms of friends around the world.
In every country in which she has lived and worked, she has arranged women's retreats, empowerment projects and leadership trainings in the "New Story." She has listened to thousands of women from different cultures share their political feelings as well as their most intimate stories. Recently, while in Afghanistan, Rabia was called one of our "global grandmothers," a title she cherishes above all others.
Her earliest social activism came in 1965, when she spent two years in Selma, Alabama working with Martin Luther King, Jr. She received her M.A. in Liberation Theology from Marquette University in 1968. As a single mother, she moved to Washington D.C. After a year of living on welfare—a learning experience that would greatly inform her future work—she was hired as the Youth Coordinator for the White House Conferences on Children and Youth, and spent two years in this position before moving on to work as the assistant program director for the newly-formed National Public Radio. She served for seven years as special consultant to John D. Rockefeller III on projects related to women's empowerment, population, and development issues.
In 1982, Rabia received doctorate from Harvard University in Philosophy of Education. In the 1980s, the influence and teachings of Catholic priest, Father Thomas Berry, and Buddhist teacher, Joanna Macy, paved the path for Rabia to become a well known educator, weaving together Eastern and Western traditions, and focusing on the spiritual and scientific basis of the Great Turning—the global paradigm shift taking place in our understanding of planetary interconnectedness, the inseparability of spirit and matter, and the relationship of the human-earth future.
Elizabeth taught philosophy and ethics at Harvard University, Marquette University. She co-founded and directed The Institute for Deep Ecology and Naropa University's M.A. in Environmental Leadership and its Certificate Program in Ecopsychology. She is a founding faculty member of Spirit in Education (SEM), an international educational institute for grassroots activists based in Bangkok, Thailand.
In 1999 Rabia and her husband, Pir Elias Amidon, sold their home and undertook a deliberate period of homelessness as part of an international pilgrimage of direct service and teaching. In 2002, while working with a peace group in Iraq, Rabia was elected the first American delegate to the Global Non-Violent Peaceforce. Since then she has worked organizing and teaching active non-violence in Burma, Indonesia, the tribal lands of Southeast Asia, Iraq, Syria, Israel/Palestine, and Brazil. Most recently she has gathered with local women leaders and organizations in Afghanistan and Pakistan.
Rabia is the President of the Boulder Institute for Nature and the Human Spirit and directs its new project, Waking Up Together: Feminine Wisdom and Global Transformation, as well as its international program, the Path of the Friend. Through her years of work in the world she has acquired a deep respect for what she calls "the activating power of the receptive." She has a deep faith in the innate capacities and intuitions of women of all ages and cultures.
Rabia is co-editor of the anthologies Earth Prayers and Life Prayers and Prayers for a Thousand Years. Her teachings are available through Rabia's Riffs—short e-Letters and videos which are sent bi-monthly to her mailing list. She also guides Women's Wisdom Circles, speaks periodically, and writes essays and articles that can be found on her website. She and Elias are currently working on a book about lessons learned from their decades of work together in the world, titled Love and Dust: On the Road from Selma to Kabul. Rabia currently splits her time between Boulder, Colorado and Crestone, Colorado where her husband has a Sufi Center.

Contact Rabia by email: info@wakinguptogether.org

Elizabeth Rabia Roberts
1975 30th St. #215
Boulder, Colorado 80301