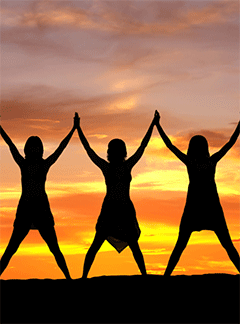 HerStory: The Gift of Woman
A series of ten talks and
conversations on the
history and future of women

with Elizabeth Rabia Roberts
in Boulder, Colorado

Seminar 1: Sunday, February 19, 2017, 2-4 PM
How the Evolution of the Female Changed the World
Click here to view the two-page printable flyer.
MARK YOUR CALENDARS!
The first five gatherings of HerStory will be held on the following SUNDAYS from 2-4 PM: February 19, March 26, April 23, May 21, and June 18.
Topics we will cover in the HerStory seminars:
• How Women Evolved and Why
• Differences between Male and Female Neurophysiology
• Can We Change?
• Why the Patriarchy is Still Here
• When God was a Woman
• The Feminine Mythos
• The Legacy of the Spirit–Matter Split
• Early Judaism and Greek Influence
• Christianity and Women
• Stages in the Women's Movement
• Women's Spirituality
• Our Shadow Side
• What is the New Story?
To register for HerStory, email Rabia by clicking here.